Southwest

Alexandria Bynum
Southwest Region Vice President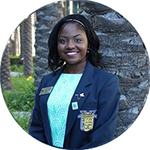 Quote of the month: "It doesn't matter how slow you go as long as you don't stop."
Welcome, Southwest Region
Farewell
Thank you so much, North Carolina FBLA and the Southwest Region. This  year has truly been a blessing and honor. To Ms. Thomas, Ms. Lay and my team, I have enjoyed every second with you guys. Thank you!
State Leadership Conference
The North Carolina State Leadership Conference is March 19-21, 2018 in Greensboro, NC. I hope every has prepared for this amazing event.  Good Luck to everyone attending and competing.
Community Service
Our statewide Community Service Day will be held on February 24, 2018. Each school will conduct one major community service project on February 24, 2018 and share their success. We created this day to fill the needs of our world and our community. Mahatma Gandhi once said, "Be the change you want to see in the world." Fill free to search what is needed in your community. The project can be simple or large, the size does not matter, only the impact! Please share all activities with me at southwestvp@ncfbla.org.
State Leader Conference
The State Leadership Conference is around the corner. Be sure to study for your event. You will do amazing! Rachel Cobb, Taylor McCarthy and I will be presenting a workshop called F to the B to the Lead, make sure you check it out.
Happy New Years 2018
Greetings, Southwest Region! Thank you all so much for coming and participating in the Southwest Regional Competitive Events Conference. It was a success! Congratulations to all the winners! Continue to study hard and win big at the State Leadership Conference in March. The State Leadership Conference will be in Greensboro, March 19-21, 2018. NC FBLA Southwest Region raised over 1,100 items and donated them to Christian Ministries and Amy's House. Thank you again. They greatly appreciated all of your hard work for the holidays.