Southwest

Alexandria Bynum
Southwest Region Vice President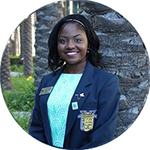 Quote of the month: "Strive not to be success but rather to be on value"
Welcome, Southwest Region
Regional Competitive Events Conference
Greetings, Southwest Region! The Regional Competitive Events Conference and is right around the corner.  Lincolnton High School will be hosting it on December 2, 2017, in Lincolnton, NC.  This year the state officers and I created a community service project across the state called FBLA Ca
res.  Our goal is to assist the needs in our local communities.  The Southwest Region will be specially donating the items to Christian Ministries and Amy's House, a domestic violence shelter.  I am asking for each school to bring non-perishable food items and personal care items, such as hygiene products to the conference.
Canned food
Toothbrushes
Toothpaste
Paper towels
Toilet paper
Feminine items
Hair brushes
Wipes
Cleaner(Lysol)
Hand sanitizer
Blankets
Notebooks
Pens
Crayons


Coloring books(for adults and children)



There are more items in the community that are in high demand.  If you have any specific questions about an item, please contact me southwestvp@ncfbla.org
National Fall Leadership Conference
The National Fall Leadership Conference was in St. Louis, MO. The state officers and I had the greatest time! I celebrated my 18th birthday on the first day of conference. I went to many workshops where I immediately became inspired, and I began to set goals for myself and the region.  One thing that stood out to me the most at the conference was the guest speaker for the closing ceremony.  He asked the entire audience, "What do you have to give?" I questioned myself thinking about what could my answer be.  I found out that when someone gives their all with no more to give back that is the measure of true success.  I encourage you all to question yourself daily "What do you have to give?" We could give more in the classroom, in the business world, and in our personal lives if we all give everything we have  to better our society for the future because we are leaders.
Southwest Region Student and Teacher of the Month
I would like to shine the spotlight on one student and one teacher for each month on my monthly post and emails. The teacher should demonstrate hard work, dedication, passion for what she does, and assists the needs of students. The students should demonstrate a determined mindset, advocate for learning, and has leadership qualities. The candidates should be emailed to southwestvp@ncfbla.org by the 20th of every month.
Hurricane Relief
Southwest Region, I challenge you to remember the islands and cities that are have been hit by Irma. If anyone has donated items for the hurricane victims, please email me at southwestvp@ncfbla.org. I would like to recognize the acts of kindness.