Southwest

Alexandria Bynum
Southwest Region Vice President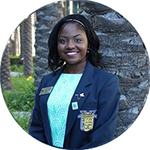 Quote of the month: "Strive not to be success but rather to be on value"
Welcome, Southwest Region
National Fall Leadership Conference
Greetings, Southwest Region, the National Fall Leadership Conferences are approaching quickly. The state officers and I will be traveling to St. Louis, Missouri on November 9-12, 2017. I will celebrating my birthday on the first day of conference.
Regional Competitive Events Conference
The 2017 RCEC and Leadership Conference will be held on December 2, 2017, at Lincolnton High Schoo
l in Lincolnton, NC.  NC FBLA created a community service project called FBLA Cares. At each RCEC, we are asking students to bring personal care items should as: hygiene items, toiletries, house cleaning items and canned food. The donated items will be distributed to individuals that are in need.
Please open the link below for information about registration for RCEC
https://docs.google.com/document/d/1duP2Ksvm4HgKWk7THNm2iNClmA0ZEfqalvLWkk4pOmc/edit
Hurricane Relief
Southwest Region, I challenge you to remember the islands and cities that are have been hit by Irma. If anyone has donated items for the hurricane victims, please email me at southwestvp@ncfbla.org. I would like to recognize the acts of kindness.
Important Dates
October 11, 2017 NFLC—Buffalo, NY Early bird Registration deadline
LifeSmarts competition begins @ 10:00 am
October 18, 2017 NFLC- St. Louis, MO Early Bird Registration Deadline
October 20, 2017 First National Membership Dues Postmarked.
Membership deadline!!
Super Sweeps ends
October 21, 2017 Virtual Business Finance Fall Challenge Begins Virtual Business Management Challenge Begins
October 25, 2017 NFLC – New Orleans, LA Early Bird Registration Deadline